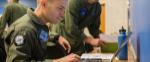 ---
When was the last time you updated your Servicemembers Group Life Insurance (SGLI)? SGLI is a program that provides low-cost term life insurance coverage to eligible Marines. If eligible, you are automatically enrolled in SGLI and issued the maximum coverage. However, you have the option to decline SGLI coverage, select a lesser amount of coverage, and designate beneficiaries at any time. A good rule of thumb is to review your SGLI annually, and update it every time you experience a major life event, such as marriage or the birth of a child.
Keeping your policy up to date is about to get even easier. Beginning on 1 May 2018, Marines will be able to manage their SGLI policy through the SGLI Online Enrollment System (SOES), a web-based program that will be hosted on the milConnect portal. SOES was developed to resolve problems caused by the paper-based process (e.g., missing SGLI forms, incorrect premium deductions, outdated beneficiary information, etc.).
You can access SOES via the DoD milConnect Portal by using your CAC or a personal User ID/Password. Once you're logged in, you will be able to update beneficiary information, modify coverage amounts or just review your policy to ensure it is up to date. No more going to the IPAC to update your SGLI!
SOES will be available 24 hours a day, seven days a week to serve your SGLI needs. Marines are encouraged to review the SOES-web based training to become and remain familiar with the SOES process.
Here are a couple of things you need to know about the rollout:
Newly accessed Marines will continue to use the SGLI Election and Certificate (SGLV 8286) and the Spouse Coverage Election and Certificate (SGLV 8286A) to manage their SGLI and Family SGLI coverage until SOES becomes accessible by the Marine. This usually happens at the first duty-station, or in some cases, at their MOS-producing school.
SOES requires military members who are married to another service member to have their marital status properly updated in the Defense Enrollment Eligibility Reporting System (DEERS). If your marital status has not been updated in DEERS, you will not be able to make a SOES selection.
If you are having trouble with MilConnect, you can contact the DMDC Support Center (DSC) at 1.800.477.8227.
For SGLI policy questions, contact Mr. Gerald Castle, Head, Casualty Section, gerald.castle@usmc.mil, Tele: (703) 784-9512. SGLI process questions may be directed to Mr. Maurice Gordon, MI, maurice.gordon@usmc.mil, Tele: (703) 432-9176.