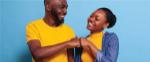 ---
Boundaries are values based on invisible lines that we set up to take care of ourselves and our relationships. They tell people what to expect from us and what we can expect from them in the context of the relationship. Knowing, communicating, and respecting boundaries is key to building and maintaining a strong, mutually beneficial relationship with others.
Whether in a new relationship or continuing one, be clear with your partner about things you like to do and things you don't like to do. Find out their boundaries as well by having an open discussion before a relationship is taken to the next level. This builds not only communication but also respect within the relationship.
When communicating, ask questions if you do not understand or are unclear on something discussed. Be sure to check in with any questions or concerns about something or to make sure that he or she feels comfortable.
Respect each other's boundaries by not trying to convince the person to try an activity that violates one of his or her boundaries. Expect your partner to return that respect and be vocal if something occurs where you feel your boundary was not respected.
Each relationship will be different, and boundaries can change from partner to partner. Feel free to change your boundaries, whether that means trying something previously refused or eliminating an activity you engaged in with a previous partner.
Knowing each other's boundaries and communicating appropriately will pave the way for an enjoyable experience for all involved.
Need assistance working on relationship boundaries? Contact the Community Counseling Program or Marine Corps Family Team Building to sign up for a Real Relationships course.