Whether it's basketball or relaxing in a sauna, you'll enjoy a fitness experience with the latest equipment in a bright "health club" atmosphere. We are here to serve you.
The Fitness Center offers a wide assortment of free weights and weightlifting machines, traditional sports programs such as volleyball, indoor soccer, and a variety of aerobic equipment.
Semper Fit Manager: Jessica Parkhurst Jessica.n.parkhurst@usmc-mccs.org
Youth Sports Coordinator: Chad Marquette Chad.Marquette@usmc-mccs.org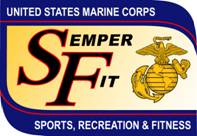 Contact Information
Fitness Center
Monday
6:00am - 8:00pm
Tuesday
6:00am - 8:00pm
Wednesday
6:00am - 8:00pm
Thursday
6:00am - 8:00pm
Friday
6:00am - 3:00pm
Saturday
10:00am - 3:00pm
Sunday
10:00am - 3:00pm
Federal holidays as posted
Semper Fit now offers a 24HR gym program for all permanent personal that are stationed at MCMWTC. For $30.00 a year patrons will be able to get an access card to the gym facility for after hours. You will need to see the Semper Fit Manager M-F 0700-1500 to gain an access card.