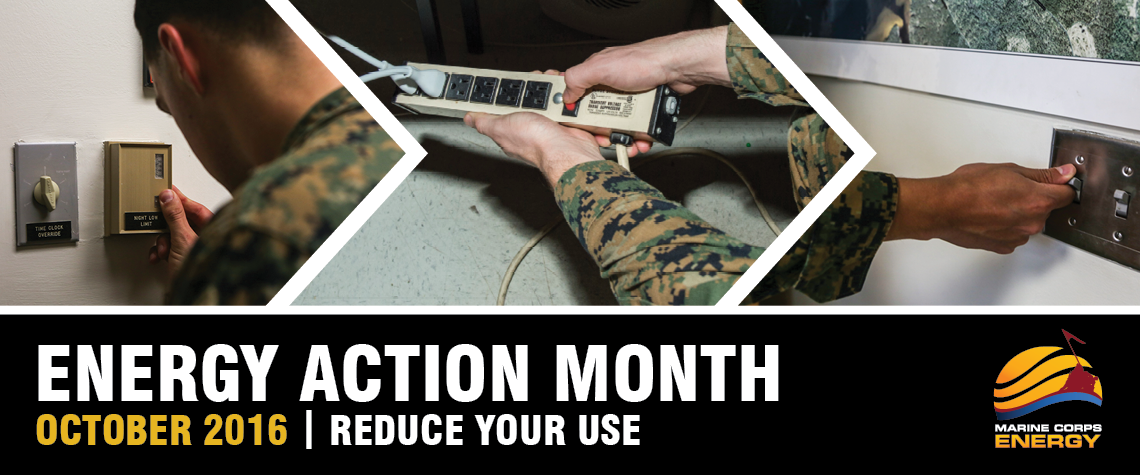 ---
Halloween candy is filling the stores and your favorite spooky movies are on TV – you know it's almost October, but did you know it's also almost National Energy Action Month?
Implemented in 2011, October is designated by the President as Energy Action Month to encourage Americans to take control of their energy consumption and work together to strengthen energy security and reduce environmental impacts. The Marine Corps participates in Energy Action Month each year, and continues to champion the Energy Ethos year-round.
Saving energy is crucial to the Marine Corps' mission, and good energy habits start at home. This month is the perfect time for you and your colleagues or family to start making energy-smart choices every day. Not only will you be supporting the Energy Ethos, but you'll be more likely to see savings on any energy bills you have to pay.
Do you or your family have what to takes to be considered energy champions? Check out the Marine Corps Energy Action Month Challenge Calendar (pictured below and available to download and print at the link) to see what you can do throughout the month and how you can determine your rank.
Don't forget to share your progress and show off your energy savings on social media by using the hashtags #EnergyEthos and #EnergyActionMonth. You have the power!
For more information on how to reduce your household expenses, including energy bills, contact the Personal Financial Management Program.
To download a printable version of the calendar, click here.
First Day
10/1: Think you're energy efficient? Define what energy action means to you – 5 points
Week 1 – Lighting
10/2: Turn off at least three lights that you don't need – 3 points
10/3: Walk around your home or work and figure out what kind of bulbs you have – 3 points
10/4: Use sunlight instead of turning on lights during the day – 5 points
10/5: Replace an incandescent light with an LED – 7 points
10/6: Find out if your base uses solar energy and learn about it – 3 points
10/7: Instead of overhead lights, use small lights in reading or work areas – 3 points
10/8: Mock power outage! Pretend you don't have lights and see what you can do – 10 points
Week 2 – Water
10/9: Turn off the water when you brush your teeth – 3 points
10/10: Try a cooler shower than usual – 5 points
10/11: Find out what kind of faucets you have – low flow or no? – 7 points
10/12: Take a shower in under 5 minutes – 7 points
10/13: Only run the dishwasher when it's full – 3 points
10/14: Use cold water to wash your clothes – 5 points
10/15: Search inside and outside your home for leaks. Report or fix any you find – 10 points
Week 3 – HVAC
10/16: Check windows and doors for leaks. Close them when the A/C or heat is on – 7 points
10/17: Open windows at night for cool air instead of turning the A/C on – 5 points
10/18: Look at your furniture and move anything that blocks the air vents – 7 points
10/19: Set the A/C at 78 degrees or higher. Set the heat at 68 degrees or cooler – 5 points
10/20: Watch what you're wearing – dress for the temperature – 3 points
10/21: Has your A/C filter been checked this year? Have it cleaned or replaced – 10 points
10/22: Get out and have fun. Turn off the A/C or heat when you leave – 5 points
Week 4 – Plug load
10/23: Unplug appliances and electronics that you're not using – 7 points
10/24: Charge your cell phone only once today – 5 points
10/25: Unplug your charger when you are no longer using it – 3 points
10/26: Plug electronics (TVs, game consoles) into a power strip that can be turned off – 7 points
10/27: Are your appliances Energy Star certified? Check them to find out – 3 points
10/28: Shut down your computer and monitor when they're not in use – 5 points
10/29: Have fun without electronics today – go outside, read, or play a board game – 5 points
Week 5 – End of the month!
10/30: Think back on the month – pledge to make at least 4 things permanent habits – 10 points
10/31: Happy Halloween! Light a room with jack-o-lanterns instead of lights – 5 points