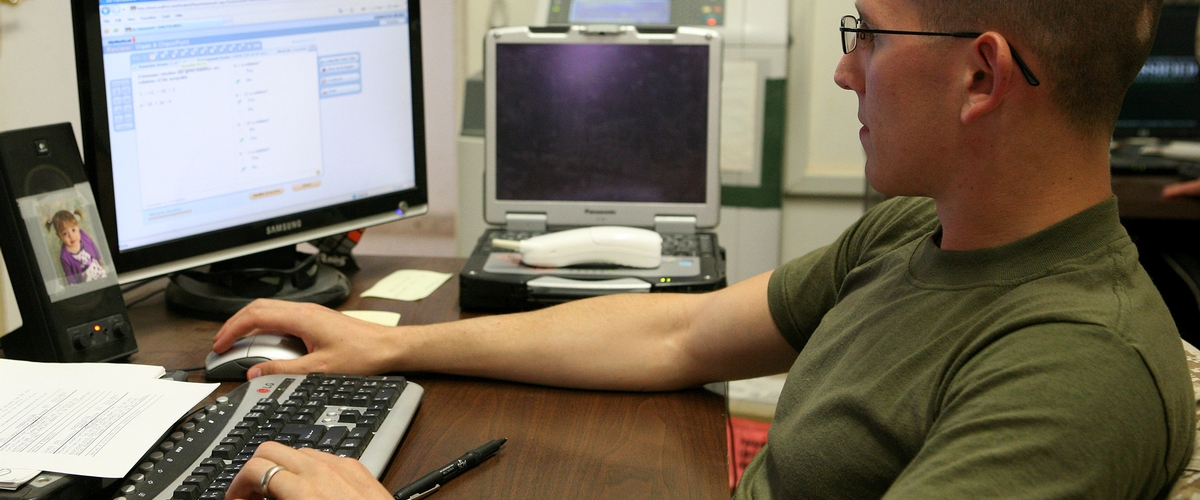 ---
The Marine Corps Credentialing Opportunities On-Line (COOL) program is well underway, providing Marines a way to take the skills they have learned on the job and translate them into civilian credentials.
The program reached an initial milestone on July 30 with the funded credentialing of its first Marine. Since then, 108 Marines have applied, and of those 21 have obtained credentials.
Staff Sgt. Robert Nelson Jr. was the first to receive funding through Marine Corps COOL to cover the costs for a leadership certification exam in the business and management consulting field.
"What the certifications mean to me in and out of the Marine Corps is they show my employers that I'm always pursuing higher education, I'm seeking self-improvement, and that I'm qualified to do the job," said Nelson, administration chief for the Marine Detachment at Naval Air Station Pensacola Corry Station in Pensacola, Fla. Since completing the leadership certification, he is pursuing another certificate for operations management.
Established in October 2014, Marine Corps COOL partnered with Navy COOL, which has provided credentialing information and opportunities for Sailors since 2006.
"We are proud to be partnering with the Marine Corps and sharing lessons learned," said Keith Boring, Navy COOL program manager. "Together we are demonstrating efficiencies with best practice, best intent for the government, as well as best opportunities for the service member."
Marine Corps COOL offers Marines information about civilian credentials related to their military occupational specialty (MOS) and how to attain them. It can also help Marines stand out within their professional field and prepare for the civilian workforce.
"Our Marines have greatly benefited from COOL and are excited about their Military Occupational Specialties translating into civilian credentials," said Cassandra Coney, COOL program manager, United States Marine Corps. "The virtual tool has been an excellent platform in navigating through a Marine's lifecycle of recruiting, retention, and transition."
From the COOL web portal, Marines can search service-specific websites for certifications they may be eligible for by selecting their enlisted rating or MOS and occupation. Requirements and available resources are provided with information consolidated from federal, state and local sources on certifications, licenses, apprenticeships and growth opportunities.
"The Marine COOL website has credentials that map to every MOS in the Marine Corps, from infantry to food service to information technology," said Staff Sgt. Jonathan Kennedy, a special intelligence system administrator close to receiving his fifth certification. "It would benefit every Marine to at least visit the website to research what certifications are being offered in their occupational specialty, so they can build a roadmap for their future."
COOL is an example of commitment to Marines in providing world-class training, experience, and opportunities that will serve them well on active duty and as future veterans when they decide to transition to civilian life.
"When I enter the civilian work force, I will already have a huge advantage over other potential employees because of the combination of work experience in the military and the industry certifications I have earned," said Kennedy. "These certifications from various credentialing agencies have a direct link to how much earning potential I have as a civilian and how much responsibility I will be given as well."
For more information on COOL, or to learn how you can earn your own credentials, click here.