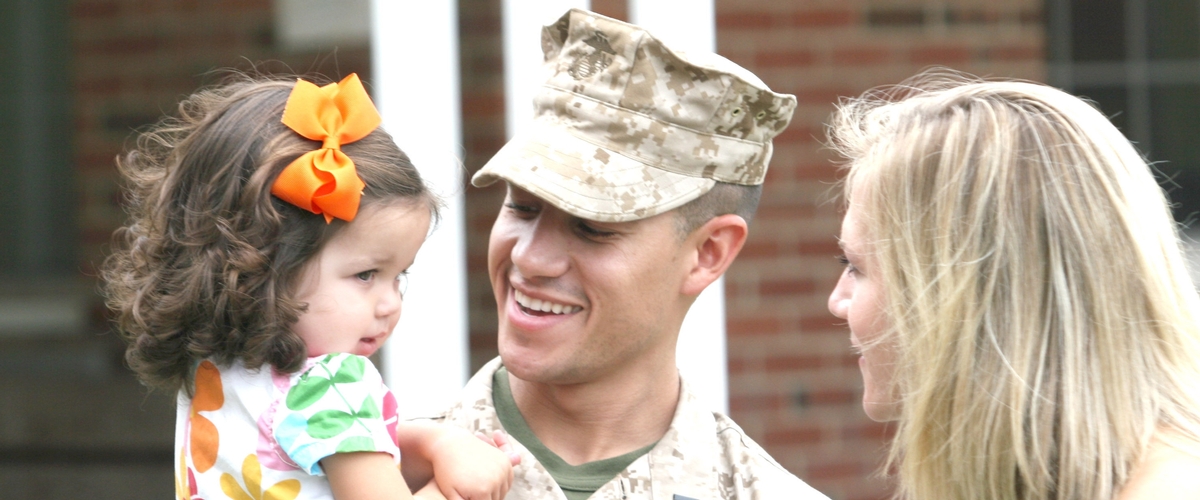 ---
Every April, the Military Services join the country in observing National Child Abuse Prevention Month. While this April is no exception, it is unfolding like none other with the COVID-19 pandemic dominating the headlines. To help, the Family Advocacy Program (FAP) would like to share some tips for navigating this unique season of life, while making your home as safe and pleasant as possible.
Maintain a positive attitude. Your children are looking to you to find the bright side.
Find things to be thankful for every day. It will help you maintain a positive attitude, will help your children see the good that still exists all around, and will help alleviate their fears.
Encourage your children to come to you with any questions or concerns. They are more likely to discuss COVID-19, including their fears about it, if they sense you are approachable.
Establish a daily routine. During uncertain times, keeping a schedule will help your family find a collective sense of calm due to the predictability it provides.
Eat regular, nutritious meals with your family. Teach your children how to stay healthy by choosing healthy meals. Show them how to plan a meal, cook it, set the table and clean up after.
Take advantage of alone time with your partner, and ensure it is rewarding for both of you. Maintaining a positive attitude with your partner, as with your children, will give you the confidence and strength to address challenges associated with COVID-19 restrictions. Use these tips for coping with stress as a couple.
Make family fun a priority. Families, who have fun together, build positive collective memories.
Get outdoors. Enjoy time in nature and bask in its restorative benefits. But please observe local and state outdoor restrictions, and keep yourselves and your family a healthy physical distance from other people including six feet of separation. The goal is to enjoy family time outdoors, while limiting the risk for spreading the virus.
Build in time for creativity. This may include time for children to practice an instrument, draw, paint, try their hand at drama, or develop other skills. Consider a family home-improvement project. Online platforms are filled with how-to videos.
Play some board games. Laughter and healthy competition will make the hours together more tolerable and even fun.
Find active and creative ways to facilitate home-based learning.
Remember that each child is different, and learns differently. Impose structure, but allow some flexibility in the schedule to assist each child.
Reach out to your child's school for available resources. Contact your child's teachers or school to resolve issues that may come up with technology, connectivity, assignments, and more.
Many schools are offering online assignments and/or virtual lessons in place of traditional in-person learning. Embrace the opportunity and make the best of the situation by sharing the learning experience with your child.
Monitor your child's assignments and make sure all work is completed. They may need help reading instructions, using laptops and other devices, and logging into online classes.
Take time for self-care.
Spend time on favorite activities that provide you with mental and emotional space, even joy. Doing so will help build the resilience needed to get through this challenging period.
Get moving. Regular exercise can relieve stress, improve your mood, and benefit your immune system.

To help, check out Semper Fit's High Intensity Tactical Training (HITT) at HOME Workout Series. All these workouts are free and can be done without equipment. HITT at HOME Workouts are posted daily and are accessible on the HITT Facebook page.
You can also reach out to a Military OneSource health and wellness coach to develop an exercise plan with the equipment you have at home. Make an appointment for a phone, online or video session by calling Military OneSource at 800-342-9647.

Keep your bedtime the same. Resist the urge to binge watch your favorite shows late into the night. Sleep helps restore and relax your mind and body, and keeps you healthy.
Recognize the situation and validate your feelings. It is normal to feel stressed and concerned during these times. There is a saying in psychology that "what we resist, persists," so the best way to begin to address an issue is to face it. Your local installation Family Advocacy Program and Community Counseling Program provide counseling if you or your family is feeling overwhelmed and needs support. These services can be accessed by telephone in many cases. Additional services and resources are also available through Military OneSource.
More related COVID-19 guidance can be found on the CDC website. You can also contact your local Family Advocacy Program office for resources year round.